L. Dean Van Matre, GW-LSC
October 26, 2022
@
11:30 am
–
1:00 pm
To pre-pay through PayPal, click here. To RSVP, click here. Please RSVP by Tuesday, October 25th.
Guest Speaker
L. Dean Van Matre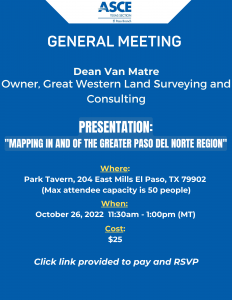 Owner, Greater Western Land Surveying and Consulting
Topic: Mapping in and of the Greater Paso Del Norte Region
Speaker Bio:
Land Surveyor approaching 40 years of surveying, Mapping, Drawing, Traveling over and across the Southwest. Licensed in Texas, Colorado, Arizona, and Nevada.
Primary focus and presentation on the Lands of the Keystone Heritage Park on Doniphan Avenue and the lands adjacent thereto. Presentation will be a chronological presentation of data and mapping from present era into antiquity. Of note will be the significant Surveying and Engineering activities as they relate to human population and development of unappropriated Public Domain to an era of roads, Railroads, Highways, Irrigation Works, Mining, Boundaries, Private, State and International, etc.