Dr. Apurba Borah, IBWC
August 31, 2022
@
11:30 am
–
1:00 pm
To pre-pay through PayPal, click here. To RSVP, click here. Please RSVP by Tuesday, August 30th.
Guest Speaker
Dr. Apurba Borah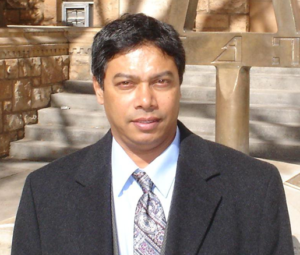 Lead Hydraulic Engineer, International Boundary and Water Commission
Topic: Rio Grande Canalization and Rectification Reach USIBWC Levee Status Update
Speaker Bio:
Dr. Borah finished his Ph.D. in Stochastic Hydrology from Oklahoma State University and MBA from Purdue University. He is a recipient of the U.S. Department of Interior Conservation Award (2011). Dr. Borah has worked seven years at the International Boundary and Water Commission, U.S. Section headquarters office. Before, that, he served 5 years at the U.S. Bureau of Reclamation in Sacramento, California, 2 years with Maricopa County Flood Control District in Phoenix, 6 years with Yavapai County in Prescott, Arizona and 11 years of service with St. Johns River Water Management District, Florida in the field of water resources management and river restoration. His work includes providing hydrologic/hydraulic solutions for in-house USIBWC projects as well as review of projects from various stake holders such as CBP, USACE, NADBank, local governments and Irrigation Districts. He has conducted hydraulic studies such Arroyo Colorado Flood Capacity Restoration and performed COR duties for various projects. He also coordinates with FEMA for USIBWC levee accreditation. He is a Registered Professional Engineer in Arizona, a Certified Floodplain Manager (CFM) in Texas and a Project Management Professional (PMP).r.